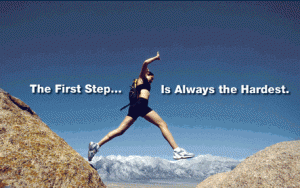 The first step of any journey is the hardest, but if you want to improve your life you need to move forward.
Are you stuck in a job you don't like?  
Are you living paycheck to paycheck?  
Are you in debt?
Do you worry about how to pay your bills?  
Do you want more for yourself, your family?  
Are you living up to your full potential? 
How did you answer those questions?  Are you looking for more?  How would you like to work for a well established company with a track record of improving people's lives? A company that values you and pays you well, offers great benefits, unlimited earning potential and promotions.  How about a company that will give you the training you need to be successful, a company where you will work with a team of people who want to help you and want to see you succeed?  If you think that sounds like what you are looking for, would it appeal to you more that you can do this job from home?  How about if we told you  there is no selling, no cold-calling, no parties, no inventory to buy, no deliveries to make?
Does that sound good?  Want to know how you can do this?  We have openings for interviews as early as tomorrow.  So if you really want to make a change, take your life in another direction, then you need to take that first step and contact us.  We will help you every step of the way but you need to take the first step.
Are you ready?