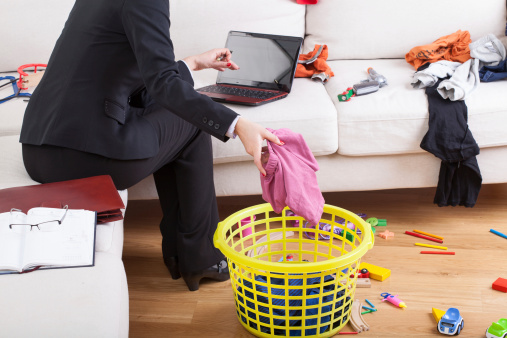 I'm a mom who has the ability to work from home and I really feel blessed that I can.  I'm able to do so much more for my family and kids then when I worked a corporate job with a commute and having to spend the entire workday in my office.  However no one said working from home does not have challenges because it certainly does.
Balancing a career and kids is challenging and it doesn't matter if they are home or in school, you will feel yourself up on that tightrope a lot.  Here are some ways you can make things easier:
Don't accept the guilt–Studies show children with working moms grow up well-adjusted and they are on average higher academic achievers and less likely to suffer from depression and anxiety later in life compared to peers who had moms that did not work.
Have a Plan–If you are just going back to work whether from home or out in the corporate world, you need to have plans in place for child care, after school activities, back up plans for snow days and sick days and a support person you can call for any of the unplanned situations that occur with kids.
Have a Flexible Workplace-This is why I love working from home and being able to create my own hours to work around things that I need to do.  I can volunteer at my children's school, go on field trips, take time off when I want or need to and that gives me such peace of mind.  I think it is what makes all of what I do possible.
Make sure your children get enough sleep-Getting enough rest is important for children, too. The American Academy of Pediatrics recommends that children between the ages of 1 and 10 get between 10 and 13 hours of sleep each night. In addition, evidence suggests that young children who get less than 7.5 hours of sleep at night are at increased risk for being overweight and experiencing anxiety, depression and learning problems as adolescents.
Lose your expectations or at least adjust them-If something is not working change it and understand that there is no perfection and you don't have to be perfect.  Learn to roll with it and you will be a lot happier.  Understand things usually end up working for the best even when they are not going how you intended.
Schedule in family fun time– Make sure to schedule time for fun and family events and don't let anything make you miss them.  The break is good for everyone and you will all be a lot happier.
Kick Perfection to the curb-Don't hold yourself to perfection or feel you need to be perfect because you are just going to be miserable trying to keep up with that agenda.  Instead cut yourself slack and know that your best is good enough and life comes in stages so what may be a hurdle now with your kids and your career will pass and other hurdles will come but you will be constantly growing and evolving and things have a way of falling into place even if they are not perfect.  Good enough is okay!
If you are looking for a more flexible career, something that will allow you the ability to work from a home office while earning a corporate level income, we can help.  Contact us today to learn about career options that will have you less stressed and spending more time with your family.