Do you want to work from home?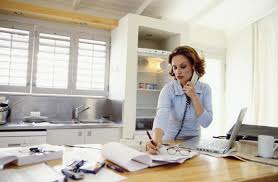 Are you looking to work from home? Do you need something part-time with flexible hours? Do you want to work full-time from anywhere? Tired of the commute, wasted hours, low pay, controlling boss?
Do you want more time with your family? Does commuting down the hall sound good? Do you want to be able to set your own hours?
It sounds good, doesn't it? Believe me, it is not a dream! I have been doing it for over a decade and have no regrets leaving the corporate world behind.
If you would like to have financial freedom, flexible hours, ability to work from anywhere and more time to spend doing the things you love, we can help!
This is not direct sales, not an MLM, not a call center, you will not have to make cold calls, have home parties, distribute products, take orders, make deliveries, post annoying messages on social media or any of that nonsense. 
If you are ready to learn more, visit our Contact Us Page to get more information about a great work at home career that can change your life!!!  You can also email info@Moms4TheWin.com with "I want to work from home!" in the subject. We look forward to hearing from you.